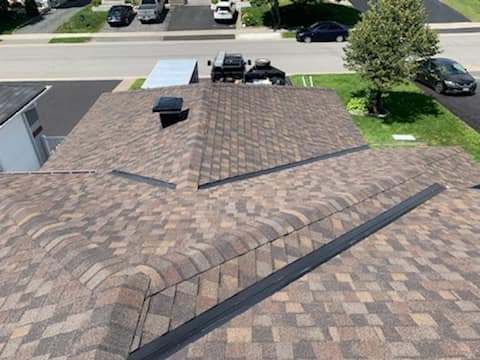 Expert Roofing Services in Sudbury. Top-notch installation, guaranteed
Providing premium roofing products and strictly following manufacturers recommendations is key to providing you with top notch service and meeting warranty standards.
Our team of professional installers are committed to delivering quality results and exceptional customer service. That's why every job we do is covered by our written 5 year warranty. We work on your home like it was our own.
Home comfort and ice dam solutions
If you have an ice damming issue causing leaks, putting on a new roof on is never the solution. To find the right solution for you we provide a free assessment of the homes entire roof system. This includes an inspection of the attic, soffit or attic air intake and roof exhaust vents.
Its never fun having to spend money on a new roof and its a lot less fun finding out that you needed more then just ice and water shield to keep your home warm and dry during harsh winter weather.
Our ice dam solutions could involve adding new insulation to your attic, installing brand new soffit and fascia to your home and more. This means not only will your roof perform as it should, you will more comfortable in hot or cold weather and have a beautiful new look to your home.
Metal roofing
Low slope roofing
2 ply Self Adhered Systems